Mark Stevens ReMarkable Website The Official list of ChileHead's web sites.

HabaneroLove.com The Habanero Hot Pepper Authority featuring hot sauces, recipes and the Scoville Scale



Chilipepper.com is your one stop for information on hot and spicy foods, sauces, recipes, growing peppers, and anything else of interest to Pepper Heads.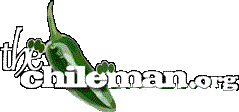 thechileman.org The home of the worlds most comprehensive, fully illustrated chile database. Chillies, chilli, paprika, capsicums or chili peppers, it doesnt matter what you call them, we will have detailed information on more than 3500 varieties listed in our database. From the mildest bell pepper to mouth blistering red hot chili peppers, we provide everything you need to know about the capsicum genus and its many species.