Sweat Bee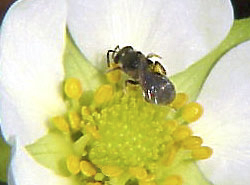 Above: Bee on small weed flower
Below: bee on cactus flower.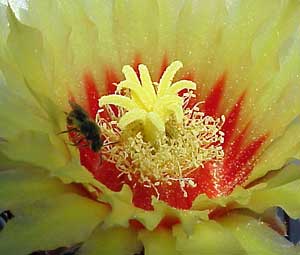 These little bees can be very annoying while working your garden, but they are good pollinators.
Sweat Bee, common name for any of a large family of bees, many of which are attracted to the salts in human perspiration. Most sweat bees are small to medium-sized, 3 to 10 mm (0.12 to 0.40 in) long. They are generally black or metallic colored, and some are brilliant green or brassy yellow. Sweat bees are among the most common bees wherever bees are found, except in Australia, where they are relatively uncommon. There are about 1000 species in the United States, Canada, and Central America.
Sweat bees are particularly numerous in North America. Although their small size makes them relatively inconspicuous, hundreds may swarm over flowers in gardens or meadows. The different species are often difficult to distinguish. Most sweat bees visit a variety of flowers. They sting only if handled.
Back
Want to grow the
Ghost Pepper?